London's Real Estate Sector Coping with COVID-19
Qatar Islamic Bank-UK has said since the emergence of the Pandemic, the London prime residential markets are exhibiting signs of successfully being able to cope with most of the COVID-related disruptions, supported by the stamp duty holiday in place since summer 2020.
According to data consultancy LonRes, the number of Prime Central London (PCL) transactions that took place in March 2021 is considered the highest since 2016.
The number of properties sold in the first five months of 2021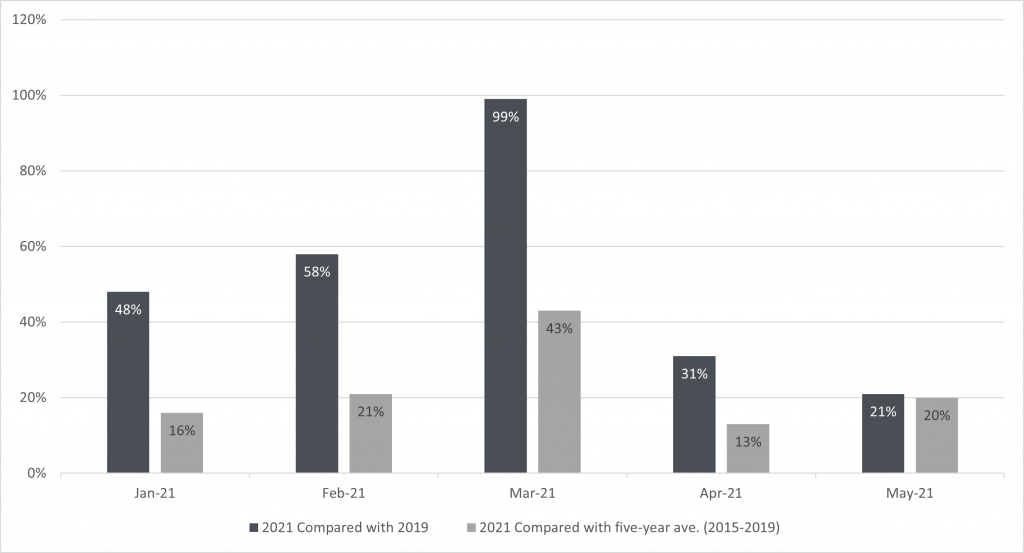 This sharp improvement in market sentiment can be partly attributed to the success of the UK's vaccine program and the first signs of travel reopening. This optimism, though, is susceptible to any changes that might occur in the pandemic course.
In fact, the resilience of the Prime Central London and Prime Outer London (POL) markets is not just the result of the relative success of the fight against Covid, it is now clear that the markets did, indeed, enter Q2 with the benefit of a protective buffer of unsatisfied demand, as many had predicted it would. This buffer is expected to persist, if the latest reports from real estate agents describing clients' eagerness to purchase, once international travel restrictions are relaxed, prove to be reliable.
Property Types & Locations in Demand
Overall, early lockdown enthusiasm for large family homes with good access to open areas such as parks, beaches and countryside, remains in demand. The market is also witnessing demand in East London as the prospect of return-to-work improves. There is an increased demand specifically in locations close to employment hubs in the capital city, like Docklands and Midtown, and specific SE/S Outer London locations, such as Clerkenwell, Shoreditch, and Victoria Park.
These locations also have the advantage of shorter average home-to-office commute times providing a better alternative for those who are keen on avoiding lengthy exposures in public places during any future potential virus breakouts or pandemics.